Entrance of Shajahanpur~Tilhar
28km
I approached to a big road leading to Bareilly, a very large city in India.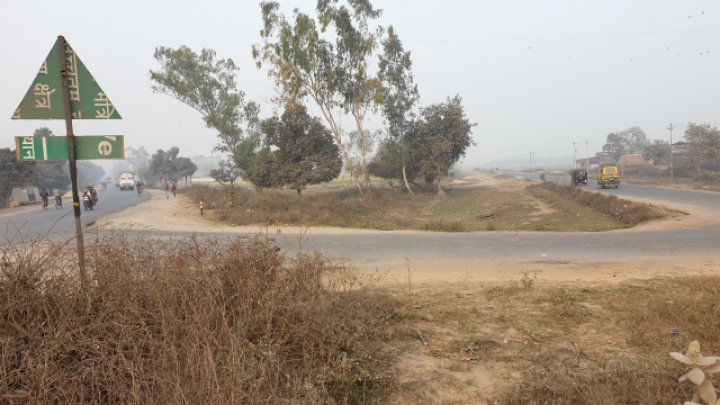 2. I started at the point where I stopped yesterday.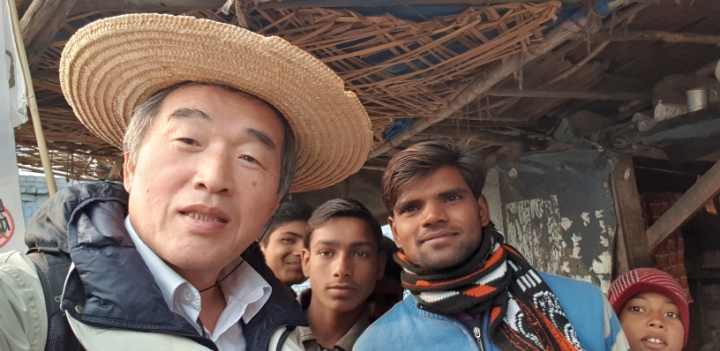 3. The youth with scarf gestured to serve me chai at his stall cafe, at the moment when he saw me.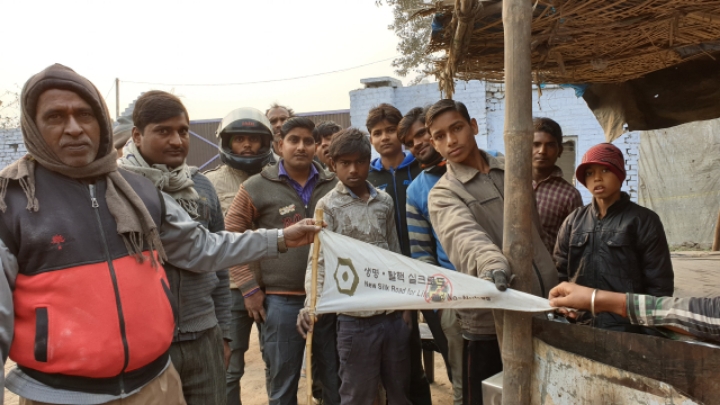 4. Villagers flocked to me while I stay for a while.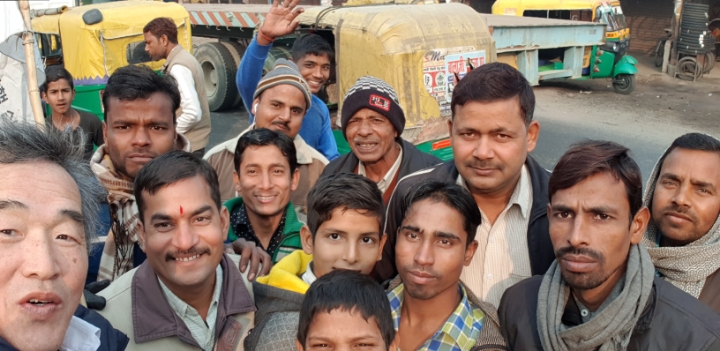 5. They exclaimed when they found out that I am from South Korea.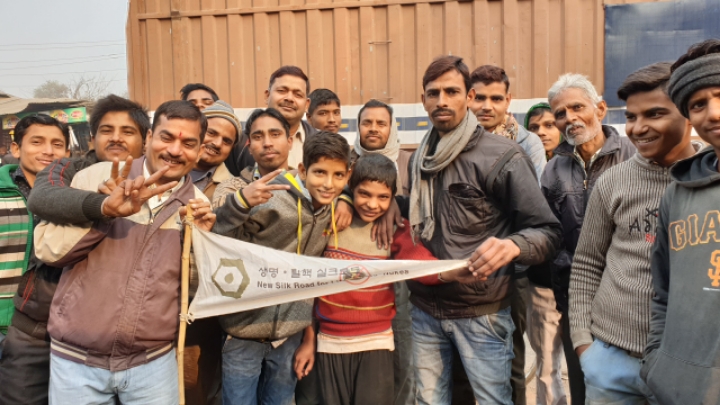 6. The order of my explanation of New Silk Road goes this way.
I begin to say that I started to walk from Calcutta. I mention North Korean leader, Kim Jung Eun, and nuclear weapons.
Then they understand with ease. Finally, I mention nuclear power plant which are more dangerous than nuclear weapons.
I stress that 450 nuclear power plants on the earth are very vulnerable to earthquake. I am walking for two years. I would like to meet His Holiness the Dalai Lama and Pope Francisco and urge them to work together for this purpose.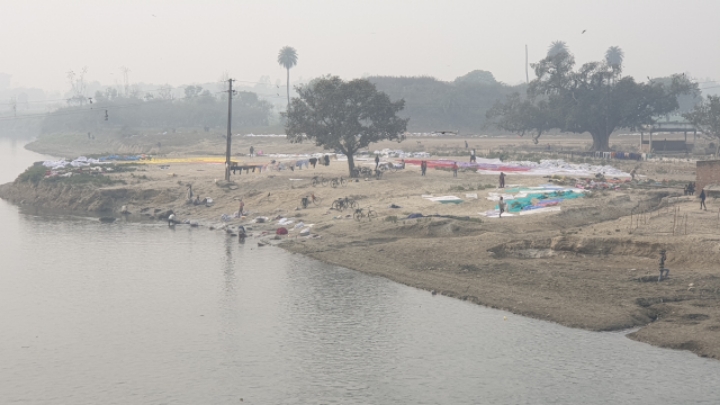 7. People were dyeing at riverside.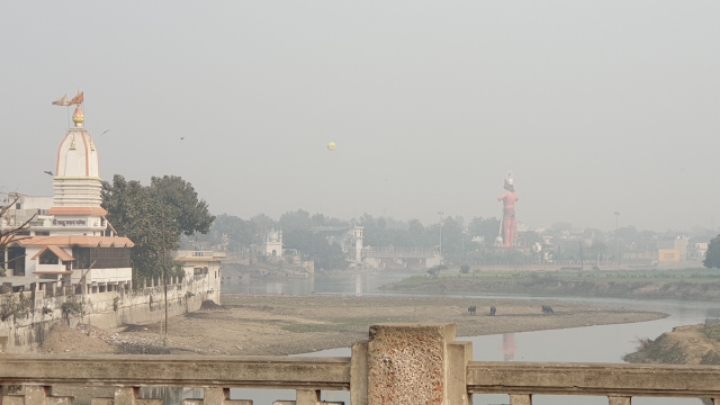 8. I entered into old section of the city.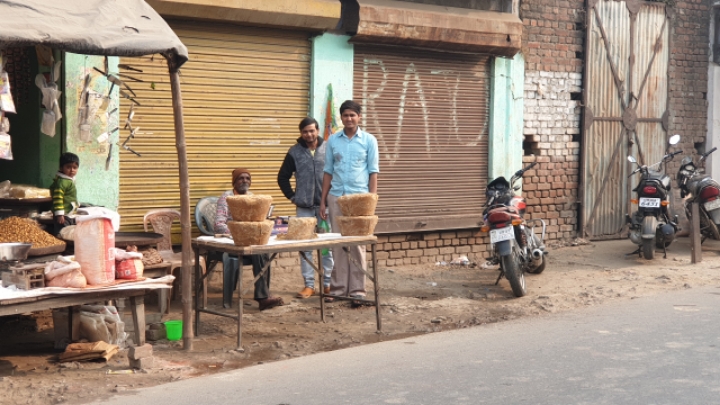 9. They were selling lump of sugar cane extracts.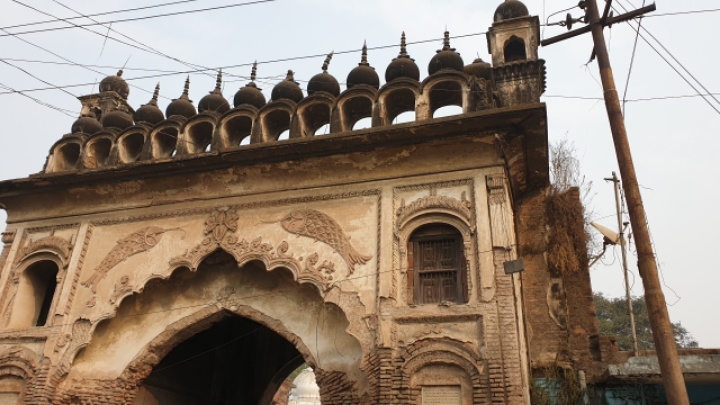 10. This is an old village temple.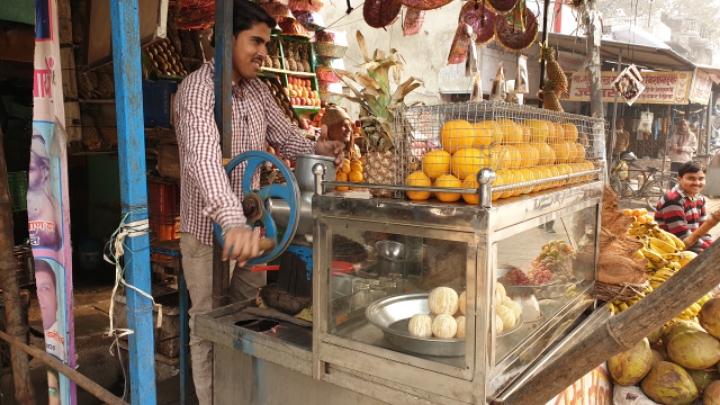 11. This man was selling raw fruit juice. He was very careful in terms of sanitation.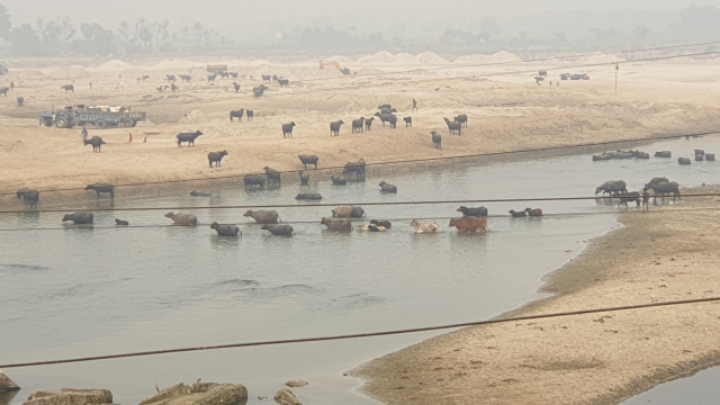 12. Many water buffaloes are crossing the river simultaneously.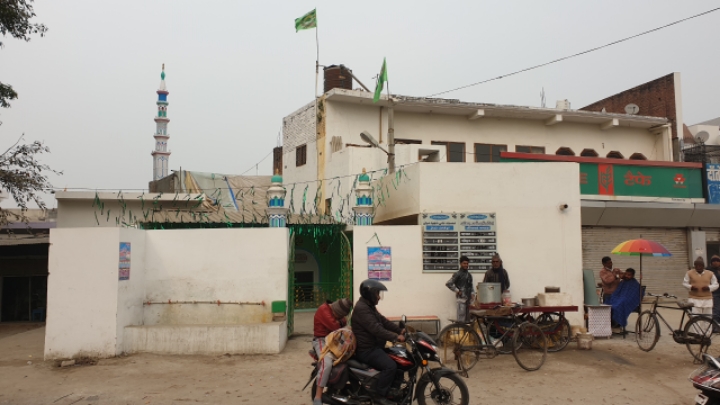 13. Inside the village, I could find a building related with Islam.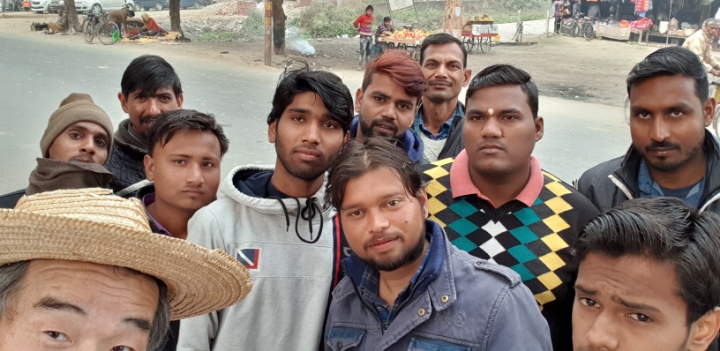 14. Whenever I stop in order to take a selfie of someone, curious villagers gather.
Then I take a selfie with all of them.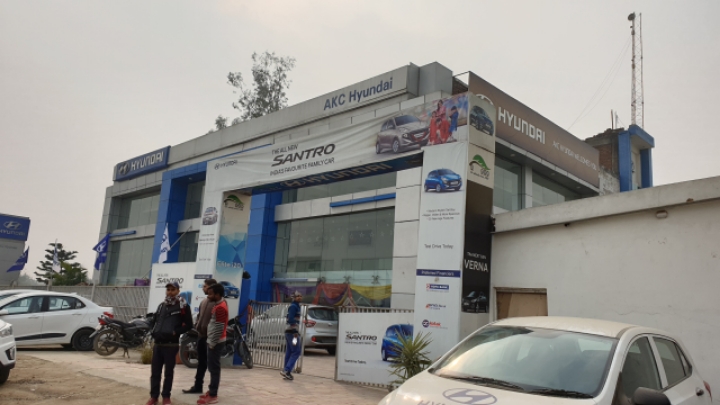 15. I passed by a Hyundai car agency.
I wished Hyundai car would be successful in terms of no-trouble and good-service.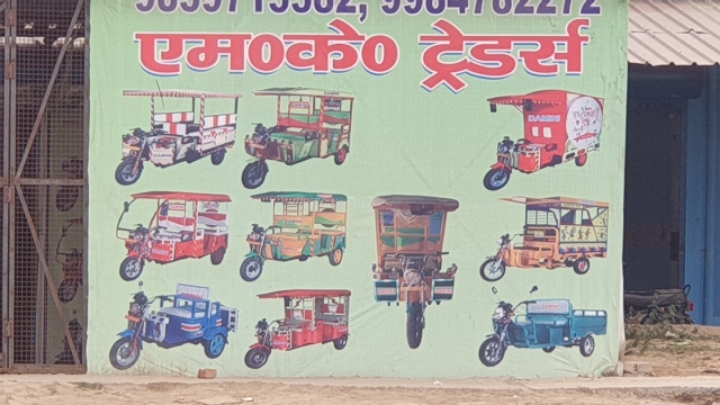 16. They remodeled motorcycle and designed various kinds of ricksha.
In hot regions like India and south-east Asia, open-type rickshas are widely used.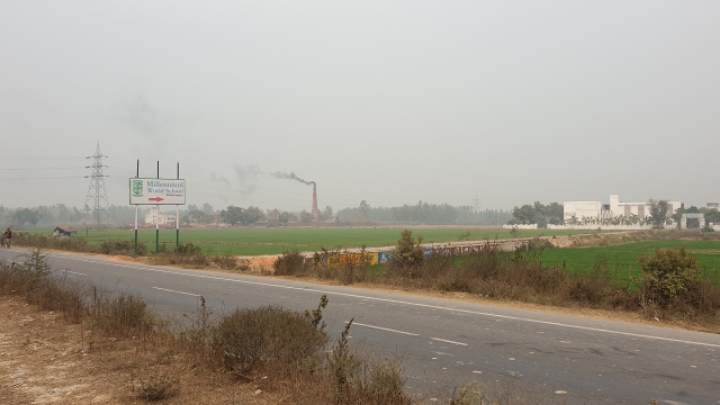 17. One of the most frequently asked questions is "What are you thinking about, when you are walking?"
It seems to be a good question. Those of you who have walked a lot, may understand that while we walk good ideas arise. I think that stimulating sole facilitates the circulation of blood in brain. I am surprised to find that a piece of thinking triggers another new thinking. I think same phenomenon happened to Immanuel Kant whose walking habit was well-known. Therefore, when I come upon a new idea, I postpone thinking about it. And when I walk a quiet road like above picture, I bring up the idea and start to think about it. In most cases, this strategy succeed and I can find out a solution. It is amusing for me to walk and think.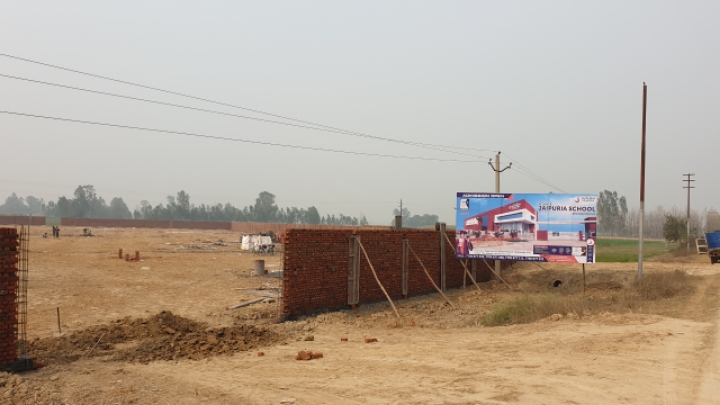 18. They are building a new school.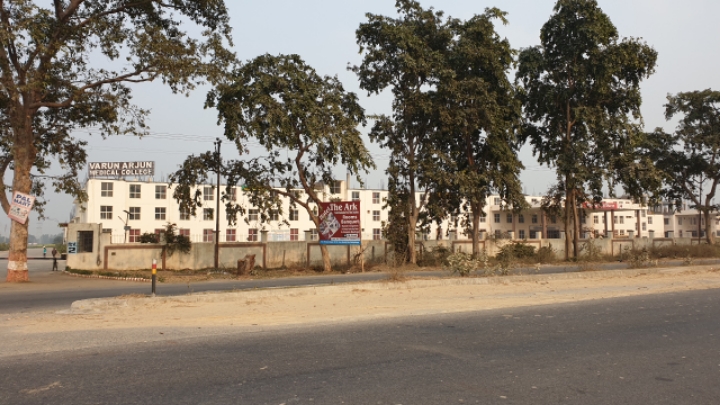 19. Medical college and hospital.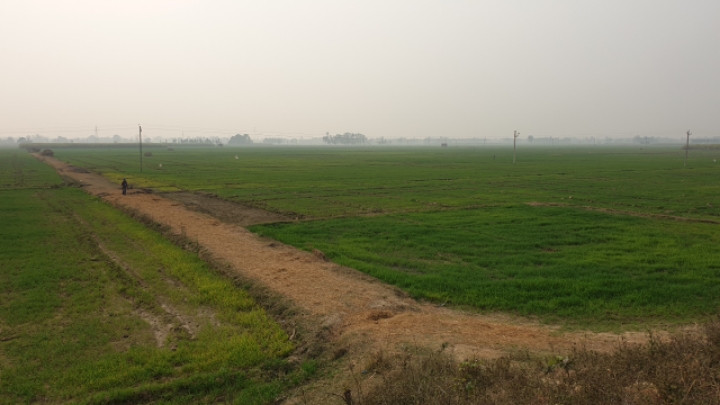 20. When I enter into a village I meet villagers and take selfie frequently, which make me somewhat busy.
This kind of quiet road is very good for thinking by myself.
These days, I am thinking about measures about polluted water from Fukushima nuclear accident, and things to do in 2019.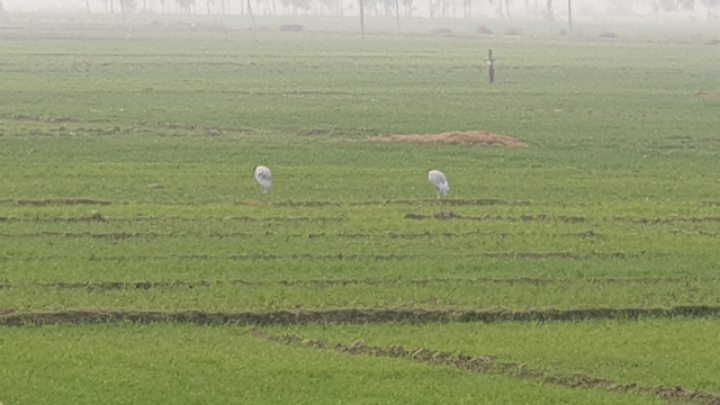 21. I found big birds of crane-family far away.
I kept on thinking and thinking, and walked 28 km today.
My body seems to be in good condition these days.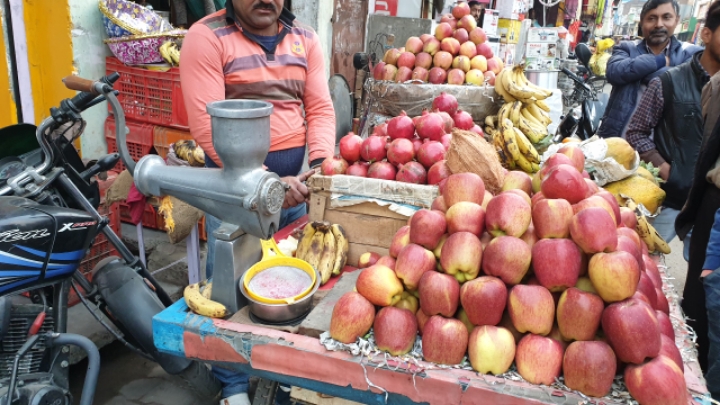 22. I ate a cup of raw fruit juice at today's destination.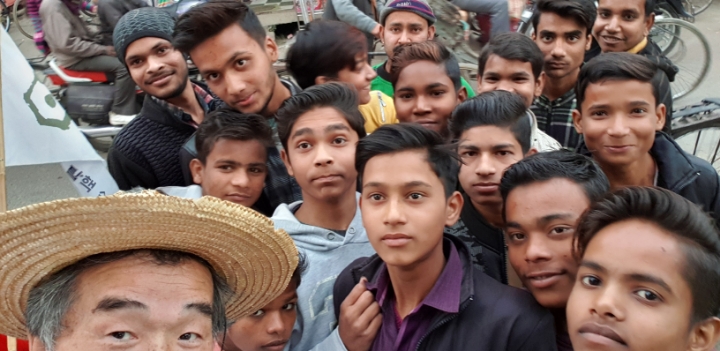 23. I took a selfie with friends of global village.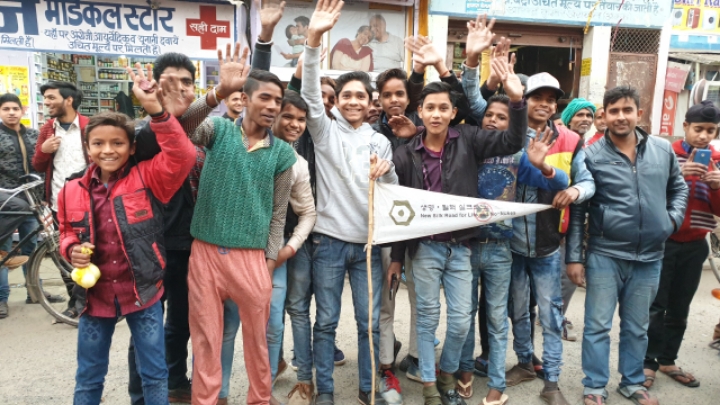 24. I finished my explanation of New Silk Road, and took another picture.
---
---
Categories: 09-2. India, Course and Diary